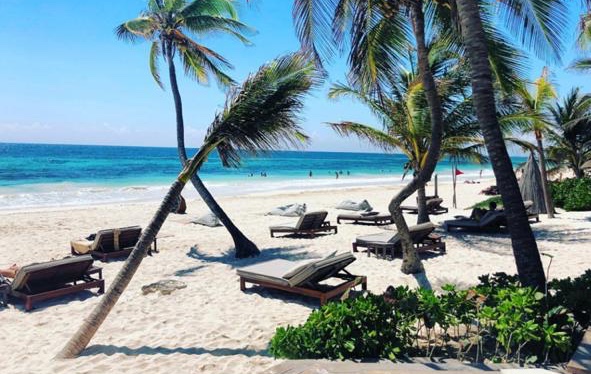 18 Dec

Live the Dream; The most Extraordinary places to stay in Tulum, one of Earth's most beautiful places!

Did you know the whole Yucutan Peninsula used to be under the sea thousands of years ago?

This caused the coral reefs to rise above sea level, creating the longest network of underground rivers in the world. That is why the whole environment of the Mayan Riviera is so exceptional.

There is literally nowhere else like it on Earth and Tulum is right in the center of it.

Come and discover the many ways you can experience this extraordinary place and make to most out of your stay in Tulum.
Luxury Hotels 
If you like Luxury, there are many different options here with many sumptuous amenities. Many luxury hotels offer glamorous bars, intimate restaurants, lush tropical gardens, swimming pools and stylish accommodations with air conditioning. Choose to stay in a room with decor curated from a modern museum such as Eames chairs or ornately carved wooden beds. Or maybe you prefer a high-end hotel with a large Art collection.  You can book a private villa with elegant, modern decor inspired by the rustic charm & raw natural beauty of Tulum, handcrafted by local artisans. If you like tranquility choose a hotel with a "zen" vibe, or if you want more of a "fun" atmosphere, there are more lively hotels offering DJs and dancing, with a relaxed nightlife scene.  There is a party vibe too if that is what you are looking for, with Full moon parties where the dance floor pulses under a blanket of stars and tropical palms sway overhead in the ocean breeze, all just steps away from the waves gently lapping on the seashore.

Spa Hotels
Tulum itself is known as a Sanctuary for healing, as it was founded by the Mayans as the Spa Retreat for the Mayan kings.  If you would like to relax and recharge, there are many Spa hotel experiences to be found in Tulum. Wellness practitioners here take a unique approach to healing, they strive to create harmony & wholeness by rebalancing the flow of energy in the body, bringing symmetry and a sense of wholeness between the inner-self and the environment. Hotel Spas offer services ranging from rustic indigenous treatments such as the Mayan clay body massage ritual; sequestered in a natural outdoor spa facility, to state of the art modern spa treatments with a pre-hispanic flare including body treatments & massage, herbal bath rituals and energy healing modalities to name a few.  Classic Swedish, deep tissue and Reflexology are available as well.

Glamping
If you are adventurous, looking for a unique experience and love to be very close to nature, you can try "Glamping"- a high-end version of camping. Here in Tulum, tents are set right into the beach dunes or secluded in a jungle oasis. Whatever landscape you prefer, the tents themselves are appointed with all the modern comforts and elegance of a luxury hotel. Let the bird calls lull you to sleep under the stars, as the breeze ruffles the palm fronds all around you.

Foodies
Tulum's thriving restaurant scene offers gourmet cuisine to rival the finest cities of the world. Many hotels are located in Tulum town close to the town restaurants and have their own award-winning chefs and restaurants right on the premises. Gastronomic delights abound including tasting menus, open fire grills, wine tastings, and pizza ovens. There is nothing like food cooked on an open fire in the fresh sea air! For the connoisseur, Tulum hotels offer classic Mayan cuisine which includes such awesome dishes as Cochinita Pibil. Pibil means buried, which is how this dish is prepared. The meat, most often pork, is marinated with the juice of la Naranja agria (bitter orange) and annatto. A pit is dug and filled with red hot coals. Once the pig is marinated, it is then wrapped in banana leaves and placed in the pit atop the hot coals, then all is covered with dirt. The coal in effect pressure-cooks the meat as well as smoking it. This epic and meal take all day to prepare, it is succulent and aromatic, not to be missed! All along the beach road Hotels offering amazing cuisine live side by side with varied diverse gorgeous renown restaurants and even great food truck options!
Beach 
Most people know that Tulum is a beach paradise but there's so much more. A unique center that attracts artists, Bohemians, yogis, and the beautiful people from all over the world. There are a wide variety of sumptuous hotel options right on the gorgeous turquoise coastline. You can choose a hotel centered on yoga or water sports such as kite surfing or stand up paddle boarding. Right on the beach you can find a large private villa, a room with a second floor balcony to view the sea or a small bungalow tucked away in the lush jungle gardens lining the beach.
During your stay in Tulum you can choose from numerous excursion trip options; to Sian Ka'an Biosphere UNESCO World Heritage site and one of the most impressive natural wonders in all of Mexico. Or to visit the breathtaking Tulum ruins, perched on a cliff overlooking the awe-inspiring sea, or the ruins of Muyil, one of the earliest built Mayan sites in the area. Or visit a Cenote for snorkeling or diving in the underground caverns.
Then the adventure continues when you return to your special hotel, designed to give you the stay of a lifetime!  What are you waiting for?