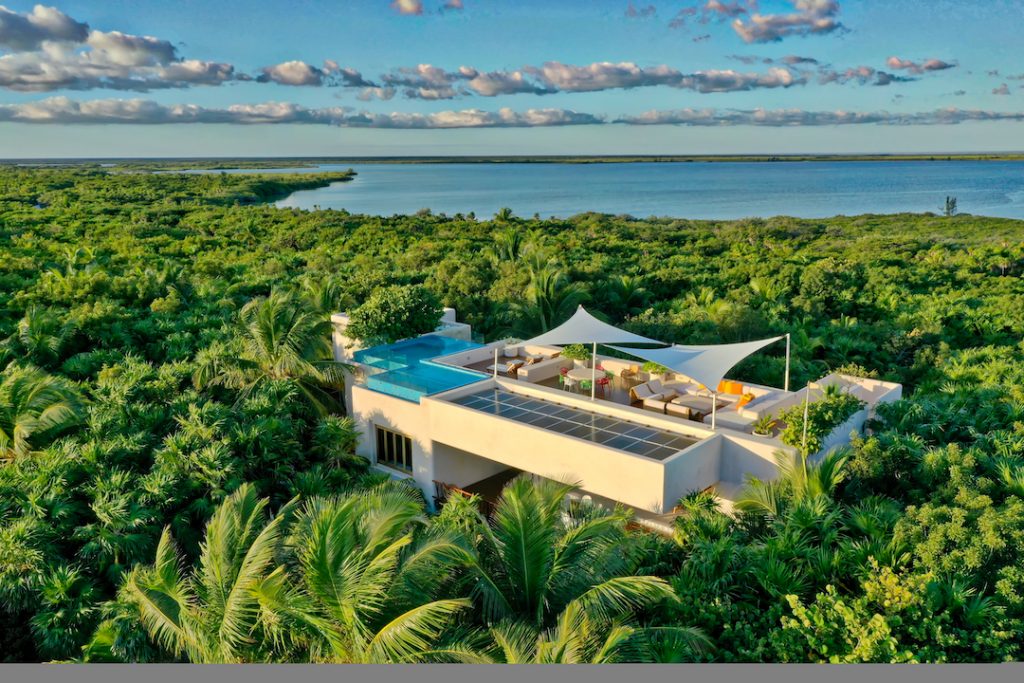 05 Mar

2021 Top Picks: Our favorite beach villas in Tulum

We have selected for you 6 of our favorite beach villas in Tulum. We always remain here putting together all the special details for our clients and curating their trips to the sun. One thing we have noticed is a tendency for longer stays in beach villa/house rentals. This trend is actually the smartest way to travel at the moment and we think it's a great idea!

Come and isolate yourself with your loved ones on a pristine beach! Here are our favorite beach villas in Tulum.
1 – Where luxury meets authenticity, a home away from home in Tulum
This beautiful villa has a modern and minimalistic decoration The house has big open-plan living/dining areas, all with fine marble floors, a fully fitted kitchen, storage room, 4 bedrooms and 5 bathrooms (4 en-suite), and plenty of exterior decks.
The rooftop has hardwood decking, green roofs and a double infinity swimming pool with fiber optics lighting, and spectacular views of the sea, lagoon, and the lush vegetation all around.
For whom? This luxury villa is an ideal accommodation for anyone who is looking for peace and privacy in a natural environment without having to relinquish luxury and comfort.
The plus? The house is designed to have a minimal impact on the surrounding environment. Power is generated through solar energy and a wind turbine located on the grounds there is also a back-up generator. Waste products are organically processed and purified water is brought in. They also provide eco-friendly bath products that are local and organic.
2 – A villa with a 360°C view to watch the sunset
Enjoy world-class full service in the middle of the jungle; your own hidden eco-sanctuary without a neighbor in sight. A leafy estate nestled between the Caribbean Sea and a Mayan lagoon. The rooftop takes in the 360° view and is an idyllic spot for happy hour as you watch the sunset on the lagoon.
Wake up in one of four designer suites. Each one features its own bathroom, king-size bed, walk-in closet, and a private terrace with sea and jungle views.
For whom? Lovers of ultimate privacy and pampering.
The plus? Contemporary design, slick architecture, and gourmet food will find it all in the highest standards.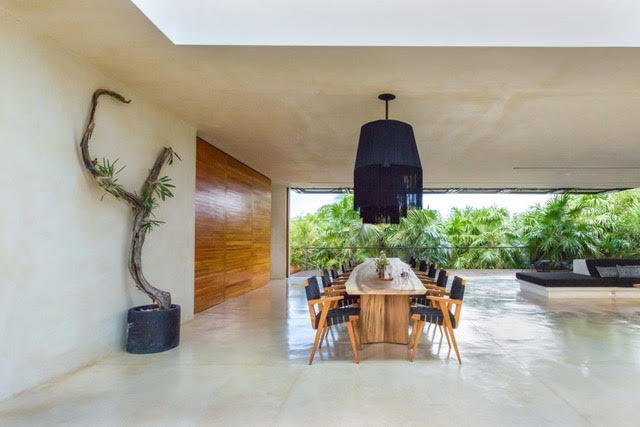 3 – A full-Service Luxury Retreat Beach Villa
Tranquility. Luxury. Serenity.  These qualities sensuously combine on the white powdery sand beaches in the Sian Ka'an biosphere, a UNESCO jewel near Tulum.  Set in a pristine, verdant jungle with a private beach, the ocean at the door, and no neighbors, this luxury beach villa is a hided oasis in a setting of rare natural beauty. Hang around at the scenic infinity pool or relax in the adjacent Jacuzzi on the rooftop, while sipping on your favorite sunset cocktail served by the butler.
For whom? This oasis is suited most for guests with environmental and ecological awareness.
The plus? Luxury nestled in unspoiled natural surroundings of lush nature, white sand beaches, and coral reefs.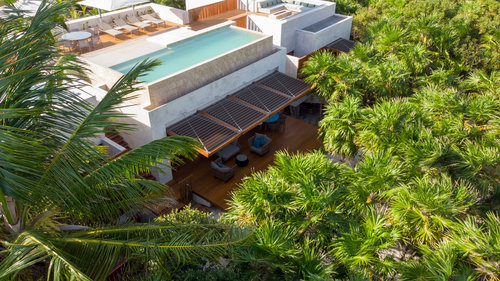 4 – An oceanfront boutique hotel with all the amenities of a private house
With a perfect blend of luxury, modern design, and nature, this superb hotel offers three private residences overlooking the Caribbean Sea and the lush Mayan Jungle. Stay in rustic sophistication on the white sand, steps from the azure ocean. Each house offers unique Mexican architecture with eclectic design styles using natural elements and textures to connect with nature. Indulge with exclusive services, private beach access, complimentary Wi-Fi, adventurous activities, and plenty of outdoor spaces to admire the unparalleled ocean and jungle views.
For whom? Everyone who wants to stay in the heart of the vibrant beach area near all the services.
The plus? The location is ideal near restaurants and the beach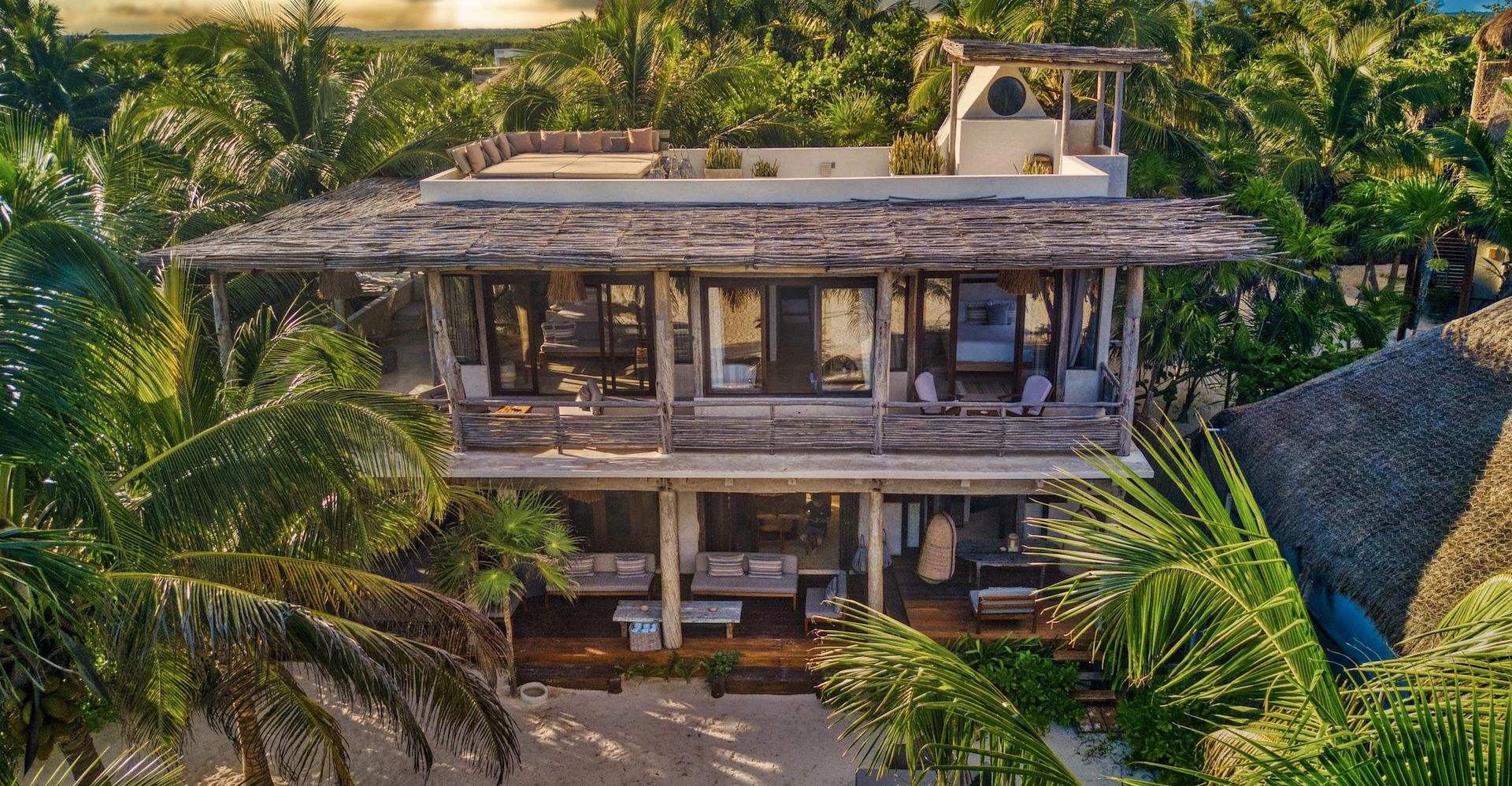 5 – Sustainable beach villa with all the leisure and charm
This villa is surrounded by lush vegetation, with the Caribbean's beach-front, fine sand, coconut palms, direct access to the coral reef, and a lagoon-front that brings you to ancient Mayan canals, world-class fly-fishing, and all that Sian Kaan has to offer.
The villa sets standards of sustainability and it is completely auto sufficient – sun, wind power, and ultra-silent backup generator – it s a zero-carbon property. No worries, the villa has modern comforts such as AC in all bedrooms, 120″ cinema projections, SKY TV and Wifi.
For whom? Everyone who seeks comfort and privacy surrounded by nature.
The plus? Great location, attention to detail, and impeccable service.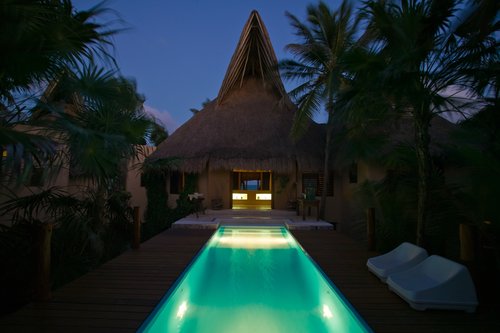 6 – An off the grid property with several beach compounds for your special group events in Tulum
All-suite property whose fully furnished villas range from a breathtaking two-bedroom penthouse to an expansive five-bedroom villa with a private seaside swimming pool. Collectively, the homes share a beautifully landscaped property surrounded by lush trees, a 1,500-square-foot rooftop patio, and a beautiful pool.
Beach-goers might also catch a glimpse of turtles nesting along the resort's beach between May and November; the property is conscious to maintain natural conditions so the creatures feel comfortable returning year after year to lay their eggs.
For whom? Suited to families, and large groups.
The plus? Ideally located it is the combination of serenity right on the beach with a vibrant atmosphere just a few steps away. All you need is just a few steps away.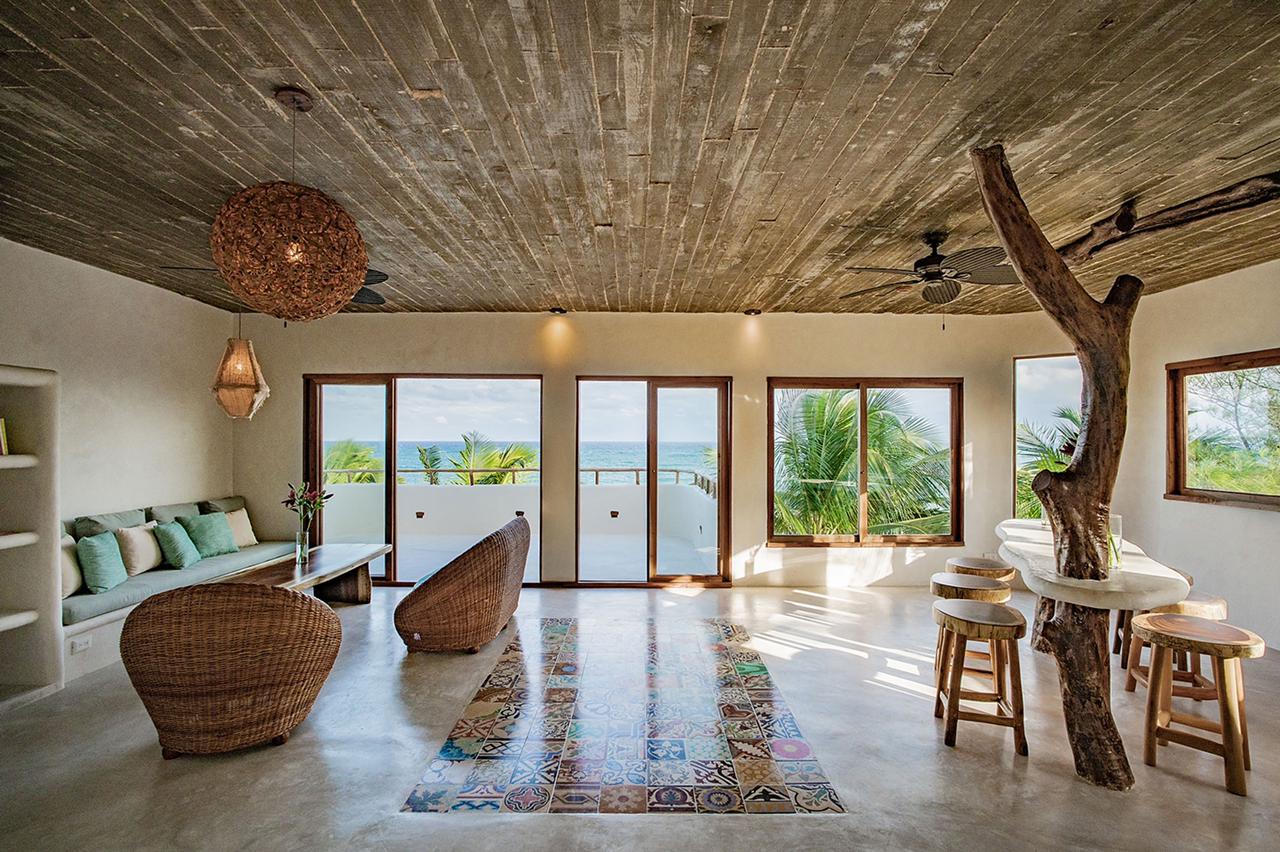 This was our selection of beach villas in Tulum, what is your favorite?